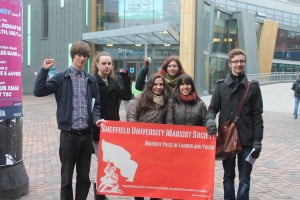 Contact: srshaw89@gmail.com
Join our Facebook group to keep up to date with upcoming events: https://www.facebook.com/groups/302201713159215
Sheffield Marxist Society is linked to the Federation of Marxist Societies. Marxist Societies are being set up nationally with the aim of increasing political discussions for those interested in the views of Marxism.
We are not just a group of left activists that march about shouting revolution. Marxism is a science, not a catchphrase. We support action, but we understand that action has to be guided by theory. Through our regular discussions we can prepare ourselves to play an active role in the labour and student movement.
Join Sheffield Marxist Society and the National Federation of Marxist Societies for the small sum of £3 per year. For this you will receive the Student Marxist Magazine, membership card and voting rights in the Sheffield and national meetings.